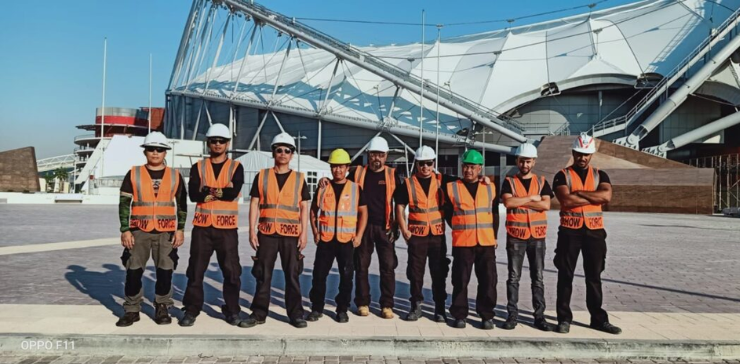 Home goal for Showforce in Qatar
Global event crewing company Showforce has worked alongside several key suppliers and agencies on a series of FIFA events in the build up to the World Cup in Qatar this November and December. Most recently this has seen an experienced team onsite at Doha Exhibition and Convention Centre supporting Imagination and Production Science with the delivery of the FIFA 2022 Final Draw.
Fully operational in Qatar for almost 10 years and a long-standing relationship with Imagination that spans Showforce's 30-year history, the company was a natural fit for the project. A team of 15 experienced and skilled international crew chiefs, crew and plant operators were onsite for 18 days in total assisting with the build and de-rig. Tasks included the unloading of trucks and equipment, installing set flats, arranging furniture, venue dressing and other general site and production duties.
At the back end of 2021, a team of 20 crew and four crew managers worked for GL events installing cables and performing general site work at six stadiums across Qatar in the build up to the 2021 FIFA Arab Cup Final. Other major projects completed in Qatar ahead of the World Cup include installing cabling and general site crew work for Aggreko at several stadiums for the FIFA Club World Cup 2021.
Showforce's operations manager Nadine Hugo comments: "As preparations gather pace for the World Cup in Qatar Showforce is in a strong position to support suppliers, agencies and organisers in the coming months. Our recent work at FIFA related events coupled with 10 years' experience working in the country, we have experienced crew and crew managers with the knowledge, skills and expertise to assist with any project."
Back to List