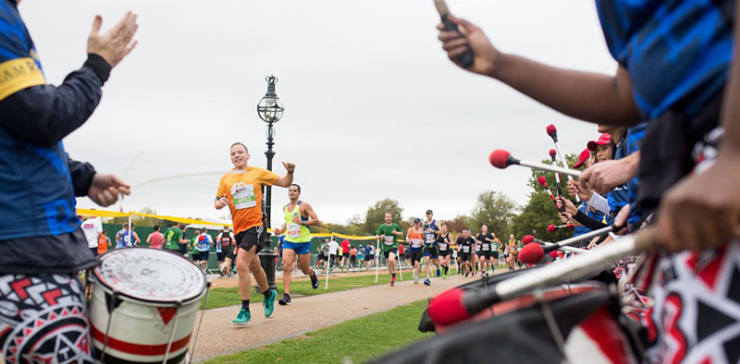 Showforce in the Limelight for Royal Parks Half Marathon
A large team of Showforce's most experienced overlay crew was in action for Limelight at this year's Royal Parks Half Marathon held on 13th October 2019. The stunning route takes in some of the capital's world-famous landmarks on closed roads, and four of London's eight Royal Parks - Hyde Park, Green Park, St. James's Park and Kensington Gardens. This was Showforce's twelfth year supporting the popular event, having been involved from the outset, and is an excellent example of how the company can deliver multi-skilled crew to assist with projects of this scale.
Showforce's crew were onsite assisting with the event's set up in Hyde Park from 3rd – 16th October. The team included general and site crew, plant drivers and operators, peaking on the race day itself when it totalled more than 60. A Showforce crew manager attended the site at 4am to ensure that all the crew were signed in and allocated to the correct area. Limelight also hired transport; four luton vans, a Mercedes sprinter and van drivers from Showforce to move equipment and kit around the site and distribute water around the half marathon's route.
The crew were tasked with delivering key elements of the site's build; from laying trackway, erecting marquees, installing electrical cables, moving equipment, along with other general site duties and supporting the event's other suppliers. During the race itself crew were sited in key areas around the route to assist with any tasks that arose.
As you would expect for an outdoor project of this size during October the crew faced inclement weather conditions, but they pushed on through and completed the job to a high standard, earning praise from the client.
Hannah Clark, event director, Limelight Sports said: "The Royal Parks Half Marathon is logistically challenging event and the services Showforce have consistently delivered for us are a key component in helping us to deliver a hugely successful event. We have a long standing relationship with the Showforce team who continually provide high calibre crew for a wide variety of requirements at the event."
Over the course of this event, Showforce amassed 170 crew days onsite.
Back to List