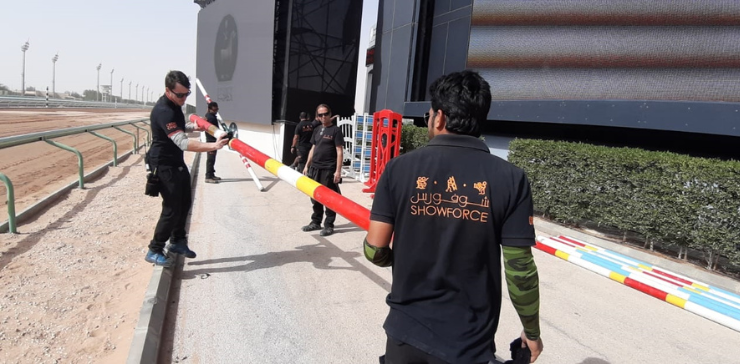 SHOWFORCE ASSISTS WITH GRAND RACE OF THE FOUNDER'S CUP IN KSA
Showforce's crew has been on the ground out in the Kingdom of Saudi Arabia for this year's Grand Race of the Founder's Cup held at the Abdulaziz Racecourse in Janadriyah on Saturday 16th March. Onsite from 9th – 19th March, a team of 10 crew worked alongside two international crew managers to assist with production elements of the event.
The crew were involved in the load in and installation of video, lighting and audio equipment as well as equestrian equipment that formed the course. The crew performed show calls during the race, moving the equipment for the show jumps at certain points throughout the event. The crew remained onsite to complete the derig and load out.
King Salman, the Honorary President of the Equestrian Club, watched several equestrian displays from different countries and awarded the Founder's Cup to Prince Saud bin Salman bin Abdulaziz after his horse won first place.
Back to List