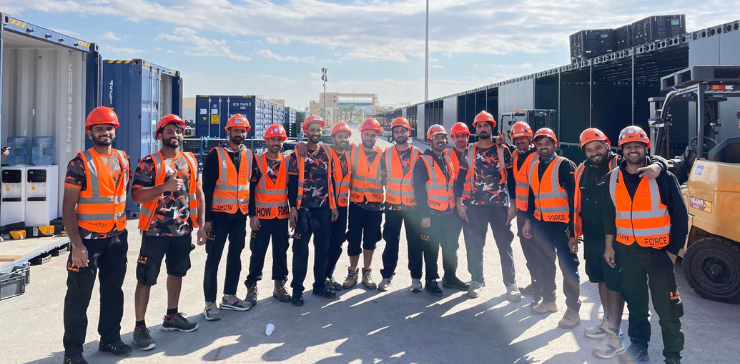 Electric performance from Showforce out in KSA
Racing fans in Saudi Arabia were treated to electric scenes when the thrill and excitement of night racing landed in the desert from January 25th – 26th. The ABB FIA Formula E World Championship's 2023 CORE Diriyah E-Prix took place North West of Riyadh and featured the first double-header of Season 9 and the only night races on the 16-race calendar.
Halo Group called on Showforce to help install vital infrastructure at the event, including LED walls within Formula E garages, and ADI TV also contracted Showforce to install LED walls on the Formula E race track.
Showforce provided Halo Group with one crew manager and 10 crew whilst ADI's requirements required the skills of one crew manager and eight crew members.
Showforce has offices in Riyadh, Dubai and Doha, as well as London, Birmingham, and Liverpool. Several team members from the UAE travelled to Diriyah to work with Halo Group and ADI. The team arrived on site on January 7 and worked with Halo Group on a six-day build schedule before joining ADI for a 20-day build.
Stormy weather conditions added pressure to the load in. As a result, Halo Group turned to Showforce and asked for more crew members to join the team. Six crew were sent to KSA, to support the client with a range of on-site requests.
Showforce's strong back office, administration, and operations teams supported Halo Group's additional requests, delivering crew quickly. The efficient turnaround of additional staff members, supporting the last-minute needs of organisation teams, is one of the things that Showforce prides itself on. It goes above and beyond to help clients deliver extraordinary events, even in the middle of the desert.
Porsche's Pascal Wehrlein steered his 99X Electric GEN3 car to victory in both Round 2 and 3 of the 2023 CORE Diriyah E-Prix before Showforce's expertise was called on again to assist Halo Group with a five-day de-rig.
Back to List